Air Conditioning Maintenance Tune-Up that is Extremely Thorough is Now $47 at And Services
Experienced Technicians from the Tampa, Florida Based Company Will Perform a 26-Point Tune-Up and Professional Cleaning on A/C Units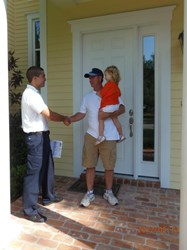 Tampa, FL (PRWEB) August 09, 2013
And Services, a Tampa, Florida-based air conditioning and heating service company, has just announced that it is offering a special on its air conditioning maintenance tune-up service. For just $ 47, an experienced technician from the company will perform a thorough 26-point Precision Tune-up and Professional Cleaning on an air conditioner. Instead of a quick assessment of the unit, the technician will take almost 90 minutes to complete the tune-up, which helps to ensure that the air conditioner will continue to run at its peak efficiency for the rest of the hot summer months.
As an article on the And Services companys website noted, it is vital to properly maintain a furnace and air conditioning unit. Not only will it help to prevent often-costly repairs, but it will also help the unit to run as efficiently as possible and help to keep electric bills low. In addition, as Tampa area homeowners know quite well, it can get quite hot during the summer, so having a fully-functional A/C unit is crucial to both comfort and health.
Its important for all members of the family to keep cool but especially children and elderly people, the article noted, adding that Floridas hot and humid weather can easily lead to heat stroke, and that the family pets can also be impacted by the rise in summer temperatures.
Small business owners and property managers also need to keep a cool and safe environment for their employees, residents and customers.
Anybody who is interested in learning more about And Services is welcome to visit the companys user-friendly website at any time; there, they can read about the current tune-up special as well as the many other types of A/C and heating services the company provides. Customers who wish to schedule an appointment may do so by filling out a handy form thats located on the home page, or they may call any day during the week. Once the appointment has been made, home and business owners can rest assured that the technician who arrives is well-trained, certified, and background screened and ready to provide top-notch and expert service.
About And Services:
And Services is a Tampa air conditioning and heating service. Service areas include Tampa, Clearwater, St. Petersburg, Brandon, Sarasota, Bradenton, Venice, New Port Richey, Spring Hill, Tarpon Springs, Wesley Chapel, Lakeland, Winter Haven, and all surrounding areas. For more information, please visit http://www.andservices.com/.
And Services

6008 Jet Port Industrial Blvd

Tampa, FL 33634

(813) 445-4818
Support This Blog By Visiting Partner Blogroll referring to Rental Property Management :
Rental Property Management
Tags: Arts